New Minister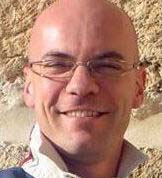 We are delighted that Dr Martin Ritchie has become our Minister. After conducting worship at Greenbank on 21st January he was elected unanimously by 270 votes to zero.
The Call (our invitation to become our minister) was signed by even more members and regular visitors. The Presbytery has agreed the Call.
Martin was ordained and inducted at a service of worship at Greenbank conducted by the Moderator of Edinburgh Presbytery on Sunday 11 March at 6.30pm.
Valerie Macniven