Worship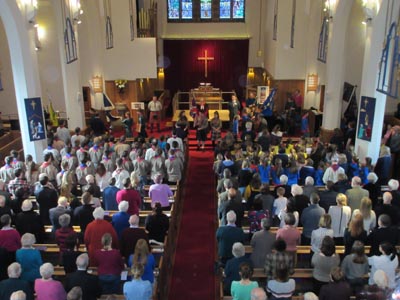 Public Worship
Regular Sunday morning worship (outwith the summer services - see below) will take place at 10.30am, continuing our "blended" approach of contemporary and traditional influences.
However, there will be one "Summer Service" at 10am throughout the summer, running from Sunday 24th June 2018 until the Holiday Club service on Sunday 12th August 2018, which will see us return to 10.30am.
The summer services will take place in the Church, will be around 45–50 minutes in length, and will be shaped to engage all ages in our church family. Crèche will run as usual on each Sunday, and there will be coffee after the service in the Main Hall.
In addition, a 'First Sunday' service will be held in the Centenary Hall at 9.30am on the first Sundays of some months and led by members of the congregation through particular groups, such as the Guild and the Monday Bible Study Group.
Holy Communion
From September 2018 Holy Communion will be held on the first Sundays of March, June, September, and December:
9.30am All age Communion service in the Centenary Hall
10.30am Traditional Communion in the Church
3pm Afternoon Communion in the Braid Room.
Holy Communion is also held on Easter Sunday and at Pentecost at 9.30am in the Braid Room.
A new Quiet Communion service will be held at 9.30am on the third Sunday of every month except June and July in the Braid Room. This service is designed to be reflective and peaceful, offering a contrasting mood to our other communion celebrations.
Crèche
There is a crèche available for children under 3 during all 10.30am services (10.00am in the Summer).